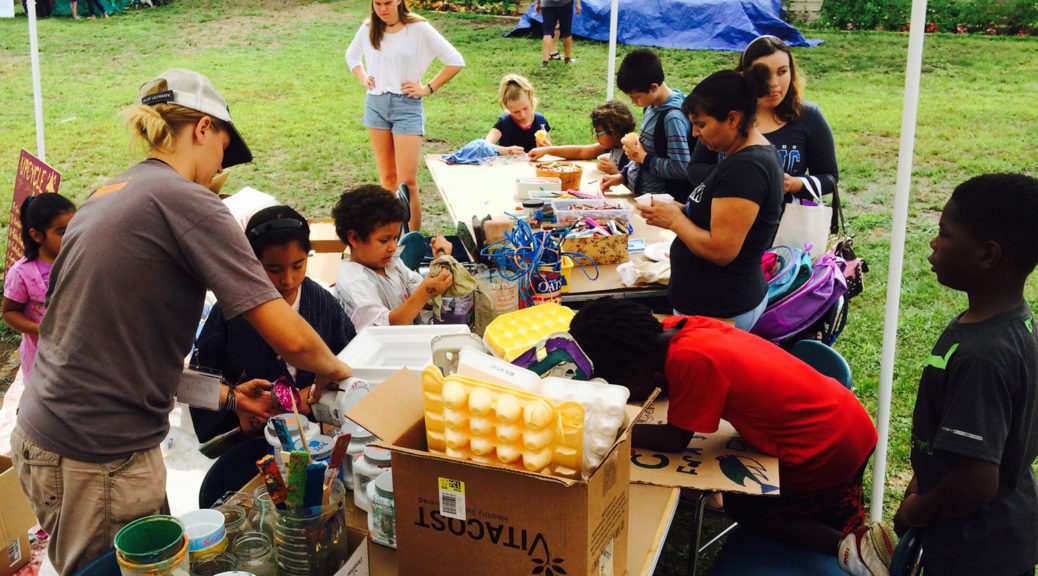 Potlucks, parties, and parenting
Potlucks, parties, and parenting
Photo from the art tent at Huss Future Festival 2017.
Hello there, and welcome to the next installment of "What Goes On in the Everyday Life of the VG-R's." (By the way, VG-R is the shortened version of our ridiculously long, hyphenated last name. We're still trying to figure out what we'll do when the baby comes along!)
Since last week, things have been pretty standard and low-key, which is good. In 2018, we're working to cut back on some of our many volunteer commitments so that we have more space in our lives for rest and fun—and, of course, a kiddo!
Last Friday night, we had our weekly potluck dinner at our organization's community house. We're going on ten years now with this tradition, and it's like a weekly family dinner. It's been a great way to stay connected with people in the midst of our busy lives, and it's also been a good space to welcome new people. There's always a variety of delicious foods, often creative dishes made with locally-grown ingredients, and good conversation. We start our time together by introducing ourselves and what we brought, then we read something as a meal blessing (usually a poem), and whoever happens to be standing closest to the plates goes first! Throughout the year, our potluck group ranges from a handful of people to 20+, and from newborn babies to grandparents. I love seeing how the little kids get so much love in this group, and look forward to the day when everyone is angling for a turn holding our child.
Another weekly event in the past few days was our *culture is not optional "staff" meeting. I put "staff" in quotes, because we don't really get paid, but we're all committed to work together for the flourishing of our local community. This past Monday, we gathered for the first time since December after a break for the holidays and for the month of January. Julie, Deborah, Rob, and I have been the core group for several years, and this past Monday, we were joined by John Mark and Angela, who are currently living in the community house. Our big topic of discussion was this summer's Huss Future Festival, which will take place on July 21. It's a massive, all-day party, with food, games, live music, art, a farmer's market, and much more. We partner with a local organization that gives out backpacks full of school supplies to local kids, and a bunch of other organizations that provide hands-on activities and games. Last year, we had almost 1,000 people come out! Future Fest is a ton of hard work, but it's incredibly rewarding and we look forward to coming up with some creative new ideas for this year's event.
Huss Future Fest takes place at the Huss Project, which is the hub of our *culture is not optional work in Three Rivers. Rob and I spent a chunk of this past Saturday in the neighborhood, going door-to-door to talk with our neighbors about their voting experiences. Since last January, we've been meeting weekly with a local group of citizens that's working on trying to increase voter turnout in our small city. It was great to meet some new neighbors on Saturday and to hear from some passionately committed voters, as well as a couple of people who never registered, but are open to doing so when we visit next time!
It's fun to imagine what these activities—staff meetings, festival organizing, door-to-door canvassing—will look like with a baby in our lives. We picture ourselves bringing a kid right along with us for these kinds of local adventures, where many "aunts" and "uncles" will share in teaching and caring for them. And yet, we also realize we need to listen to our child and be attentive to what they need at the moment, which may be quiet time at home with a book instead of knocking on another door.
One last thing I'll share for now: yesterday at work, as an opening reflection, someone shared a video of Maya Angelou talking about her mother. Since we made the decision to become parents, I've naturally found myself listening differently to people's stories, looking for the type of parent I hope to be. I was especially touched by the way Angelou's mother cooked for her kin as an expression of her love, as well as her unconditional welcome and encouragement for her daughter that made such a profound difference in young Maya's life. Here it is if you'd like to check it out:
Until next time!